I've been looking into domain names and Wordpress lately. Why? Well, since I'm planning on working abroad, at times, I'm unable to publish on my blogs. I've done some research, and it seems the best option is to just get a domain name (which means money), and use something like Wordpress to make it all pretty-like. I'm hoping to have some kind of published, current work out there on the internet if I plan on being an artist/writer/etc. (I got this advice from a company I talked to at a career fair, and it's a good idea!)
I'm looking to combine
my
3
blogs
. All of which are not accessible in certain places.
The question is, that if I move to a more permanent home, would you all follow me? Would you be interested in reading about my ramblings, art, and other things? And if you know, which web hosting service should I use? I'm looking into "green" web hosting (just because I can), specifically GreenGeeks.
I've also come down with a nasty sore throat, as well as my nose is starting to run (with sneezing). Ugh. I don't think I should be making any of these decisions whilst taking cold medications...heh.
Now I leave you with a video (which really can't go wrong in this day and age) of puppies and a kitty. BOTH!
Hello there (my very few readers), [oh, and sorry for abandoning this blog... I guess I'm just lazy at scanning things in!]
Current Mood:

sick
So if you've noticed, I haven't been updating this like I said I would. I've just been so busy lately, that I haven't had time to draw much of anything, let alone knit.
HOWEVER, I drew this up yesterday (finished it up today), and am super proud of this! It's a portrait of a British Actor, David Tennant. I'm am SUCH A HUGE FAN OF HIS (I literally *squee* when I see him!), and I just HAD to draw him! I'm normally not that good at real-life-y stuff, but I'm so glad with how this turned out. Drawn with use of a reference picture.
Materials:
Recycled Sketchbook
2H, 2B pencils
White Charcoal pencils for highlights.
Check it out!

David Tennant
by ~
hildydoo
on
deviantART
Hello all
Current Mood:

Proud
So last week I was too busy trying to finish up a knitting project that I've been working on for a while. I'm making my friend a pair of arm warmers, for the full length of her arm. She's a goth, so she asked for black and purple stripes. My camera screwed up the colors, but the purple is a lovely darkish purple. However, I was so caught up in finishing the fingers that I forgot to make the palm (specifically the distance between the thumb to the base of the fingers)! I was so frustrated! Therefore, I'm going to call this knitting project my art for last week, since that was what I was doing all week. I have been working on doing some photo realism stuff, mainly practicing using a light box (i.e. holding up the papers to the light since i'm too broke to have a light box), and tracing. I didn't want to post the tracings, since I feel weird about tracing to begin with, but I want to develop my skills doing photo realism. If I can get a feel about how people are supposed to look, then maybe I can get my muscle memory to be better at more realistic things than my own weird anime-ish styles.
Piece of the Week for 2/1~7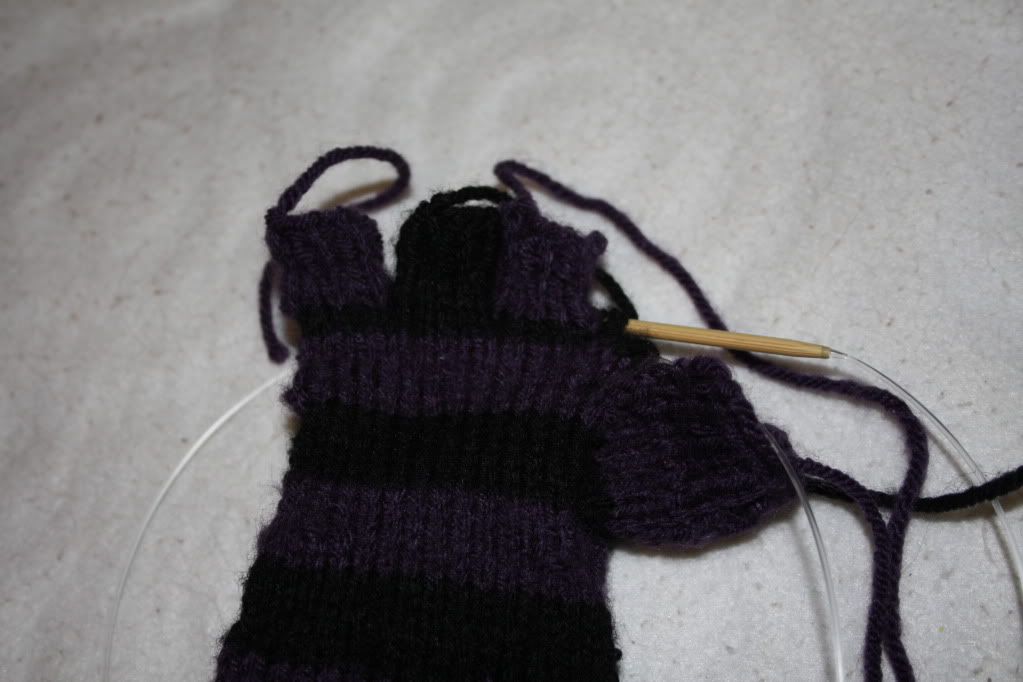 EDIT: I could only get this one picture to upload into photobucket. Anyone know of any other photo-dump sites??
So if anyone is following this blog (which I doubt since I started it 3 weeks ago!), You may have noticed that I missed my post for Jan 25~31st. As it goes often, life got in the way; being a University student that was also taking a Teaching English as a Second Language (TESL). I'm not going to beat myself up too much over it. *shrug* I'm done with the TESL course now, so now I'm certified and I can focus on art a bit more now! :)
Current Mood:

busy

Current Music:

Family Guy's on TV heh
If I have any followers (highly unlikely since I've only had one other post before this one), it may seem like last week's art is late. The art
itself
isn't late, but I just didn't have time to post it (being a full-time student, as well as taking an intensive seminar for 8hours/day/Saturday & Sunday). I'm super busy, but only for 2 more weeks! This is really just a personal goal for me, to get a piece done by Friday, and this blog is to keep me accountable to my goal. (that is, if I get any followers! haha)
Piece of the Week (PoTW) for 1/18-1/24
So this idea came to mind, and I wanted to do it in marker. Why? I don't know. I really like
"God is a DJ" by Pink
, but the lyrics talk about "you" but for me there is no "you." I was trying to go for a more graphic-artsy type of deal, or maybe a throw-back to childhood, I don't know.
Materials Used
: Crayola Markers, classic 10 pen set, sketchbook.
the scan actually made the original piece look better than it actually is! So weird! Usually opposite!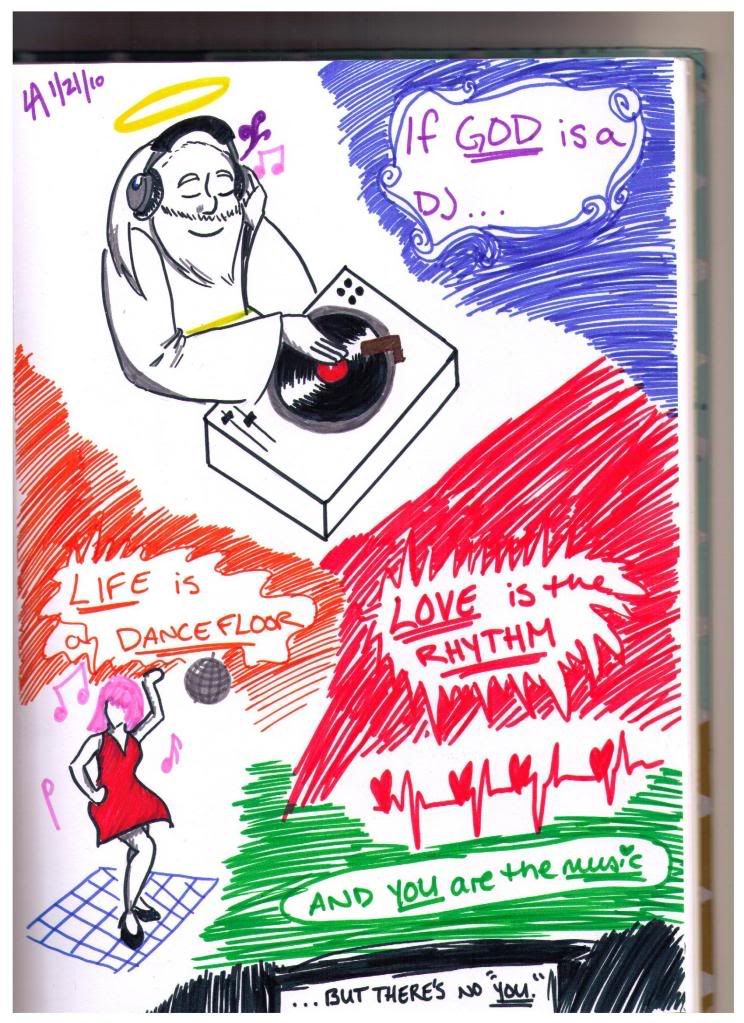 Hello cyberworld!
Current Mood:

exhausted

Current Music:

None right now
My name is Laura, and welcome to my art blog. I've been following other fabulous artists (mostly of the webcomic variety), and thought that why not?? It would give me a good setting to fulfill my goals.
Right now I'm in my 4th year of university, and will be graduating next December (how scary is that?!?!). I'm thinking of going into graphic design, and was also planning on showing off some of my graphick-ing skills here (or *currently* lack thereof).
As for my *belated* New Year's resolution, I'm planning on doing a full art piece every week(even if it is just a sketch). I will use the Mon-Sun weeks (seeing as I will probably use the weekends to do most of it), but I will try to post it by
Friday evening/night
. I mainly use pencil, though I also dabble in knitting, photography & CG(that's Computer Graphics for you non-artsy folks). This blog is mainly for my pencil/CG art, but I may end up posting other pieces as I finish them (photography & knitting). Art really is my therapy, it just makes me so happy to create something that's uniquely mine.
*WARNING* I may post things that are NSFW (such as tasteful nudity), and will mention it when it happens.
Piece-of-the-week for 1/11 ~1/17
: I'm working on my new D&D (Dungeons &Dragons) character, to debut tomorrow. She's an elf from a post-apocalyptic world. She's going to be a rogue/thief type who is very sneaky, who may or may not have done some intelligencing...if you knew, she'd have to kill you. I'm still trying to figure out how this works into the overall theme of the campaign (seeing as it is a new campaign with different elements as before), but I kind of like how she's turning out. Name suggestions welcome!:)
Done in pencil, just cleaned up the edges in
GIMP
(a free, open source graphics program, similar to PS)
Hello world!
Current Mood:

accomplished

Current Music:

TV's on